Open Tuesdays, Thursdays and Saturdays...
​...9.30am to 1.00pm
The 4U Community Café is open on Saturdays between 9-11am. You can find us in St. David's Church Hall on Eastern Avenue South, NN2 7QB. If you haven't been inside our building before, the hall door is the one in the car park. The Café provides a central hub for local residents and offers good quality food and drink as well as a safe environment for families and people of all ages to meet. The Café is a not-for-profit project run by local volunteers and is part of a nationwide project called 'The Real Junk Food Project'. We reclaim food from the local supermarkets that would otherwise go to waste. The Café operates a 'pay as you feel' policy which means that you can come and eat good healthy food for a donation of your choice. We serve a full cooked breakfast (at a cost of £2 plus a drink) and a varied menu of alternate breakfasts and hot dinners.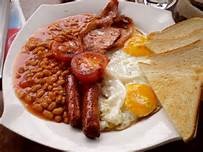 If you are interested in volunteering in our Café or want to find out more about us, please contact Cheryll Lowe 07916264317.