If you are planning on getting married, congratulations!
Our St. John the Baptist church is a very beautiful place in which to be married and we would be delighted to be part of your special day. We are always so pleased when people choose to be married in church, whether it is our traditional 'village' church or our more modern St. David or St. Mark church.
You do not have to be a regular churchgoer or baptised to be married in church. If you do not live in our parish, one or both of you will need to have a qualifying connection to be married in one of our churches. We can discuss these with you when you come to our Wedding surgery (see below).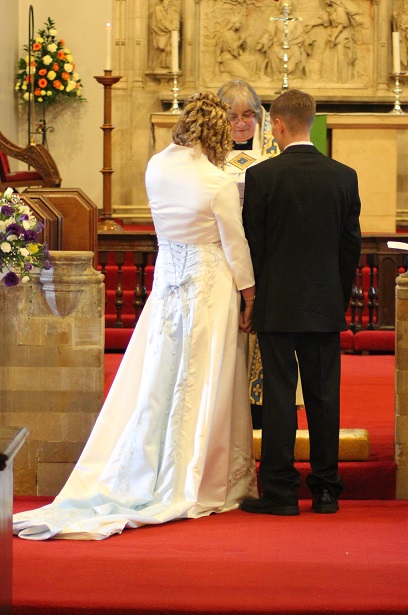 You can be married in church on any day except Sunday. When thinking when to get married, there are a few other dates to avoid: Ash Wednesday, Holy Week and Easter Day, last weekend in June, first weekend in December, Christmas Eve and Christmas Day. If you want to get married on a Saturday (our most popular day), you have a choice of three times - 12 Noon, 1.30pm and 3pm. On the other days of the week, you have a little more flexibility over your service time.
As well as the marriage service itself, we can offer you a good choir and organist, an excellent team of flower arrangers, a verger (someone who helps things run smoothly on the day), and our bells. We will help you prepare for your service, including help you choose the music, hymns and Bible readings and put together your service sheets. In the lead up to your wedding, you will have a rehearsal so that you can relax and enjoy your special day.
We will also advise you on when and where your Banns will need to be read and can help you with any other practical and technical details relating to getting married in church.
How to arrange a church wedding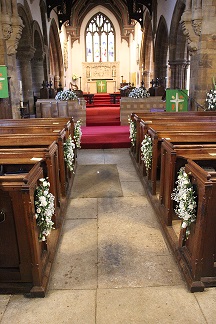 If you have any questions or are interested in getting married in one of our churches, please come to our Weddings & Baptism surgery at St. David's Church Office on Eastern Avenue South, Kingsthorpe, NN2 7QB. The surgery is held on the 1st Tuesday of the month 6.30 pm - 7.30 pm. No surgery on Tuesday 3rd January 2023
If you are getting married at a different church and need your banns read in the Kingsthorpe Team Ministry, please contact the Team Rector.
If you would like to celebrate a special wedding anniversary by renewing your wedding vows, please come along to a Tuesday evening surgery.
More information
For more information on getting married in a Church of England church, please follow this LINK.
If you want to check which is your parish church, please follow this LINK.
​Set me as a seal upon your heart,
​as a seal upon your arm;
​for love is as strong as death.
​Song of Solomon 8:6 (NRSV)